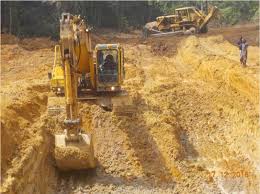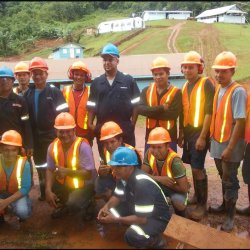 New Gold Discovery in Trenching at Toucan Ridge Area, Marudi Gold Project, Guyana
VANCOUVER, BC, CANADA, July 12, 2018 /EINPresswire.com/ — Guyana Goldstrike Inc.(TSX.V: GYA, FSE:1ZT) reported a new discovery of gold mineralization at the Toucan Ridge area on its Marudi Gold Project located in the Guiana Gold Belt, Guyana, South America.
A total of 70 metres has been trenched in TTR-18-6 with twenty-seven (27) samples sent to Actlabs for assaying. Initial results have been received and ten (10) samples have been resent to be tested for total metallic content. Once this has been completed all results will be released.
Locke Goldsmith M Sc. P Eng. P Geo., VP Exploration states "It is very exciting that gold has been visually identified in trenching at Toucan Ridge and confirmed in assay results. The gold was discovered in quartzite-metachert, the host rock for mineralization at the Property. It's significant to note that gold discoveries in the host rock at surface are not common at Marudi. Historical drill data from the Property has shown that mineralization within the quartzite-metachert occurs predominantly at depth. Toucan Ridge is therefore very important as an exploration area and as a result it has been elevated in priority for further trenching."
Toucan Ridge Trenching
To date, as previously announced three trenches have been completed (TTR 18-5, TTR-18-6, TTR 18-7) at Toucan Ridge and the exploration team is currently working the fourth trench (TTR-18-8).
The Toucan Ridge area is roughly 1.75 kilometres in length and is the fourth area out nine areas of interest that the Company has explored since commencing its Phase One exploration program. The Company has successfully uncovered and identified the host rock quartzite-metachert in all areas explored to date.
About Quartzite-metachert (Host Rock) at Marudi
At the Marudi Property, all important gold mineralization discovered to date is associated with the medial "quartzite" unit of the Marudi Mountain Formation. Gold occurs within the magnetite-hematite rich quartzite and in the magnetite-silicate iron formation.
Historical Trenching
Previous operators at Marudi reported 3,327.40 metres of trenching and assayed 1,069 samples with gold values assayed up to 11 g/t of gold. (Source: D. Strickland P. Geo NI 43-101 Technical Report, November 30, 2016).
About Guyana Goldstrike Inc.
Guyana Goldstrike Inc. is a Canadian based junior gold company focused on the exploration, development, and operation of the Marudi Gold Project in Guyana, South America.
David Joseph
David Joseph Marketing
6046199192
email us here

Source: EIN Presswire